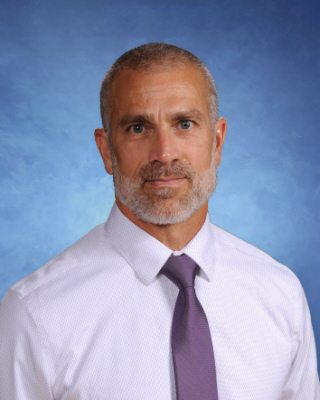 A Message From the Athletic Director
Welcome everyone to the 2020-21 school year/sports season. I hope everyone has enjoyed the extended break from school. It is hard to believe that it has been nearly six months since we were all in the building. The disruption was unquestionably extensive. Who could have foreseen how detrimental the COVID-19 crisis would be to our everyday lives? (FYI music will be provided for your auditory pleasure; I hope) We are definitely living in a bizarre world ("Another World" by Gojira). Hopefully, we are now moving in a positive direction that will allow us to be back in school and athletically competing with other schools.
I am certain that as we begin the process of coming back into the building and playing sports, you will be flooded ("The Great Flood" by Joe Bonamassa) with information and changes due to COVID-19. Some of the information that comes out may be positive, but then again, it may not necessarily be something that you are personally happy with. Whether the info comes from the state of Ohio, OHSAA, or the district, please try and be patient as we work through the process of being in school. All the decisions that are made are in an effort to keep everyone safe and ensure that school remains open for our students ("All Together" by Monophonics). Speaking of all together, if you were unaware, the athletic department is now utilizing Twitter. Through its application we will be able to quickly disseminate scores as well as any other pertinent information dealing with all of our athletic programs. Make sure that you follow us @HHWildcats, so that you can stay abreast on what is happening with our athletes. Yes, if that sounded familiar, I did copy and paste it from my article in the Cat Chat. I know that's bad ("It's Bad You Know" by R. L. Burnside).
I am certain that the upcoming year will bring its own unique issues that we all will need to work through. However, we will work through each with resolve and understanding and in so doing all of us will have an outstanding year. Again, welcome back!
Just because it's a great song ("Ordinary Man" by Ozzy Osborne featuring Elton John).
SCAL adopted athletic prices for 20-21 school year:
HS Volleyball and Basketball
Students: $4.00
Adults: $6.00
JH Volleyball and Basketball
Students: $2.00
Adults: $3.00
Adult and Student Activity Passes
Due to the uncertainty of the upcoming school year, Houston High School will currently not be selling Adult and Student Activity Passes for the 2020-21 school year. The Golden Wildcat will also not be offered this season due to governmental restrictions on attendance at sporting events.
We will look at reevaluating the situation as we get nearer to the Winter season. If we are confident that basketball will be played, the athletic department and administration will consider selling Adult and Student Activity Passes for the Winter season only.
Thanks for your understanding in this difficult decision.
Mandatory Preseason Meetings
The Ohio High School Athletic Association requires the Houston High School Athletic Department to hold preseason informational meetings for parents and athletes in grades 7-12. A parent and athlete are only required to attend one of these meetings per school year. If a parent and athlete attend the fall meeting, the parent and athlete do not have to attend the winter or spring meetings. Please mark your calendars and plan accordingly. Again, this is a mandatory meeting and your child's participation will be declined until the requirement is met.
In an effort to make all preseason meetings more efficient, the athletic department worked in conjunction with our technology department to imbed all of the elements required by the Ohio High School Athletic Association (OHSAA) and Houston High School into the school's online Oneview system. Therefore, when parents/guardians go online to enroll/update their student's information for the 2019-20 school year, the mandatory online preseason "meeting" can be completed at the same time. As in the past, both the student and parent/guardian must indicate their understanding and acceptance of each component required by the OHSAA and Houston High School. It is imperative that this component is completed by both the parent and student. Again, this change is being made to streamline and simplify the mandatory preseason meeting process.
To access OneView, on the main menu go to "School Information" then "Registration & Forms" and then click on "OneView- Student Enrollment & Forms."
Helpful Links for Wildcat Fans
HS Cross Country
Ron Boeke
Bill McKinney
JH Cross Country
Ron Boeke
Bill McKinney
HS Golf
Nate Fridley
Varsity Volleyball
Lauren Vagedes
TBA, Assistant
JV Volleyball
Gina Maier

JH Volleyball
Haley Meyer, 8th Grade
Sara Mowery, 7th Grade
HS Girls Track & Field
Sharon Roeth
Glenn Brown, Assistant
HS Boys Track & Field
Ron Boeke
Steve Mowery, Assistant
JH Girls Track & Field
Lisa Earl
Robert Earl
JH Boys Track & Field
Lisa Earl
Robert Earl
Varsity Softball
Tammy Vondenhuevel
Franny Arnett, Assistant
Varsity Baseball
Dan Barker
Mike Ely, Assistant
JV Baseball
TBA

Varsity Girls Basketball
Brad Allen
TBA, Assistant
JV Girls Basketball
Sarah Hembree
JH Girls Basketball
TBA, 8th Grade
TBA, 7th Grade
Varsity Boys Basketball
Mark Platfoot
Matt Beaver, Assistant
JV Boys Basketball
Zach Barlage
Freshman Boys Basketball
TBA

JH Boys Basketball
Steve Mowery, 8th Grade
Brian Helman, 7th Grade
Cheerleading
TBA, High School
Meranda Sherman, Junior High