Houston, Ohio, marked its 180th anniversary in 2018.  The community is comprised of three towns from the past.  North Houston was founded on November 1, 1855 by Asa Young after the Big Four (Penn Central) Railroad was built.  South Houston was founded May 4, 1838 by Harvey Houston.  Mount Jefferson was located between the two towns and was founded January 12, 1838 by Samuel Farnum.  In April 1957 the communities blended and took the name of Houston.
Before schoolhouses were built, lessons were taught in the homes of residents Robert Huston and William Skillen.  The teachers stayed with different families who had children in school.  When there were enough children for a school, a log building was constructed in 1827 or 1828 called the Huffman Special School.  Eventually, there were a total of twenty-eight one-room school buildings within the Hardin-Houston School District.
Houston, Dawson, East Jefferson, and West Jefferson schools consolidated to form Houston Special School in 1908.  The first class of the high school consisted of thirteen students, but only three graduated in 1910. One-room school buildings closed and consolidated until July 1928 when the present Houston School district was formed and an Ohio Charter was granted for a four-year high school program, instead of three. On May 25, 1928, the school purchased more land and the high school was built.  Houston Special School was used as an elementary building.  In 1937, Hardin Rural School was opened.  It was a consolidation of nine or more one-room schools.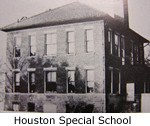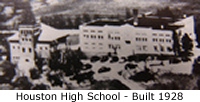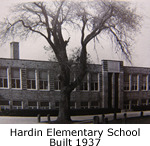 Thirteen acres of land was purchased in 1936 to add classrooms at Houston.  In 1939-40 a new addition was added to the east side of the high school to be used for a farm shop and also a music room. The cafeteria, kitchen, biology lab, and elementary classrooms were opened in the spring of 1955. Then in 1956 the old elementary was closed (Houston Special School). Also in 1956, the consolidation between Hardin and Houston school districts was completed because Sidney High School was too crowded to accept freshmen students from Hardin.
In 1962, the band room and several classrooms were built on the south side of the high school building. Four classrooms were added to Houston School in 1967 for junior high. In 1972, re-organization put kindergarten through fifth grade at Hardin and sixth through twelfth grades at Houston. In 1976, the Upper Valley JVS in Piqua opened for juniors and seniors and a set of modular classrooms were added to Hardin.
The Athletic Annex at Houston was completed in 1979, and a cafeteria and four classrooms were added to Hardin. In September 1989, six classrooms were added at Hardin and sixth grade students were moved to the Hardin building.
The 1990's brought changes in both buildings to upgrade facilities for technology.  The industrial arts shop was converted into three classrooms and the high school offices were remodeled in 1995.  In 1998, new boilers were installed along with electrical upgrades at the high school.  In 1999, a new elevator and chair lift was added at the high school and additional modular classrooms and a chair lift were installed at Hardin Elementary.  In 2003, the new Sewage Plant was operational at the high school facility.  In 2005, Water Softeners were installed at both the high school and elementary buildings followed by Macrolite Filters (to remove arsenic) in 2007. A new lift station (for removal of sewage) was installed at Hardin in 2008.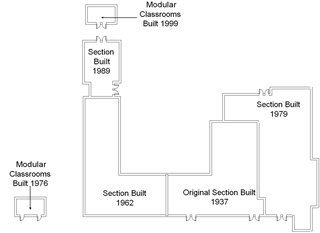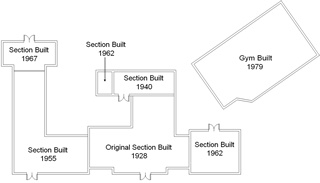 On September 18, 2011 a new K-12 building was dedicated on the grounds of the former Houston High School. Both Hardin Elementary and Houston High School were demolished. The Hardin-Houston Local School District partnered with the Ohio School Facilities Commission (OSFC) to build the new K-12 facility, with the state paying for 60% and the district paying 40%.