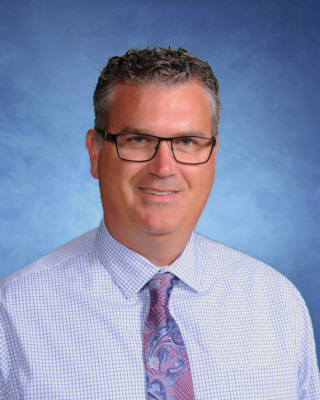 Message From the Superintendent
Greetings from the superintendent's office! I hope this message comes to you enjoying your last few weeks of this once in a lifetime summer. Before I talk about the upcoming year I would like to take this opportunity to thank our parents, students, and staff members for their effort and dedication during the last two months of the 19-20 school. These aforementioned contributions should minimize the amount of lost academic growth that we all must overcome this coming school as we
With every summer break comes the need to complete major maintenance projects, and this summer is no different. As we enter our tenth year in our "new" K-12 building, I would like to highlight three sizable projects that took place during the long summer break. The first maintenance project entailed removing and refilling all expansion joints, cleaning and sealing the entire masonry facade of the building. The second project was the complete sealing and painting of all asphalt pavement on the campus. The final and most expansive project involved replacing all interior and exterior lighting fixtures on the property. This should bring numerous educational enhancements within the building and noted improvement in parking lot light visibility. In addition, the entire $286,000 cost will be recouped within seven years due to the energy efficiencies that will be realized through the use of these new LED technologies. The district will continue to proactively plan for the maintenance of our building and campus with the ultimate goal of avoiding expensive fixes years from now. I would also like to give a shout out to our custodial and maintenance staff for their hard work and dedication during the summer break in keeping our building and campus in "like new" condition.
As we look forward to the 2020-2021 school year, I can't tell you how excited our staff is to see our Wildcat students on August 20th! Even though we will be operating school with new "normal" routines, our #1 goal is providing a safe environment for our students to flourish in academically and in the many extracurricular activities that our district students get to enjoy and compete in. Please be positive and patient as we maneuver through these unique times while we plan for an exciting and much needed back to school return/mentality
As always if you have any questions or concerns throughout the school year, I can be reached at rmaier@hardinhouston.org or at 295-3010 ext. 3001. The district will continue to use our school website to communicate with our community in addition to new district twitter @hhlocalschool and athletics twitter @HHWildcats.  Have a great school year and GO WILDCATS!
Yours in education,
Ryan Maier
Hardin-Houston Local School Superintendent
District Goals for the 2020-21 School Year
Provide a safe and secure environment for students, staff and community members of the school district, including addressing safety concerns of the current COVID-19 pandemic.


Achieve the highest ratings on the state report card.


Optimize all building systems and fulfill the 5-year strategic plan.



Maintain fiscal responsibility and continue to monitor the fiscal position of the district.
2020-21 Bullying incidents: 0