Hardin-Houston Local School


Wall of Honor
The Hardin-Houston Local School Wall of Honor was created in 2019 and is designed to recognize and honor notable Hardin-Houston alumni, former staff, and community members who have had a lasting impact on the Hardin-Houston Local School through their achievements, performance, or impact on the school and community. By recognizing these accomplishments, we hope to inspire future generations.
We are now accepting nominees for the 2022 class of the Hardin-Houston Local School Wall of Honor. Nomination criteria can be found in the bylaws. Nomination forms are available at this link. Nominations for the 2023 class will be accepted through September 1, 2023.
Hardin-Houston Wall of Honor Members
Inducted November 25, 2022
Click here for photos of the induction ceremony.
Inducted December 6, 2019
Click here for photos of the induction ceremony.
Inducted November 26, 2021
Click here for photos of the induction ceremony.
Wall of Honor Inductees 2022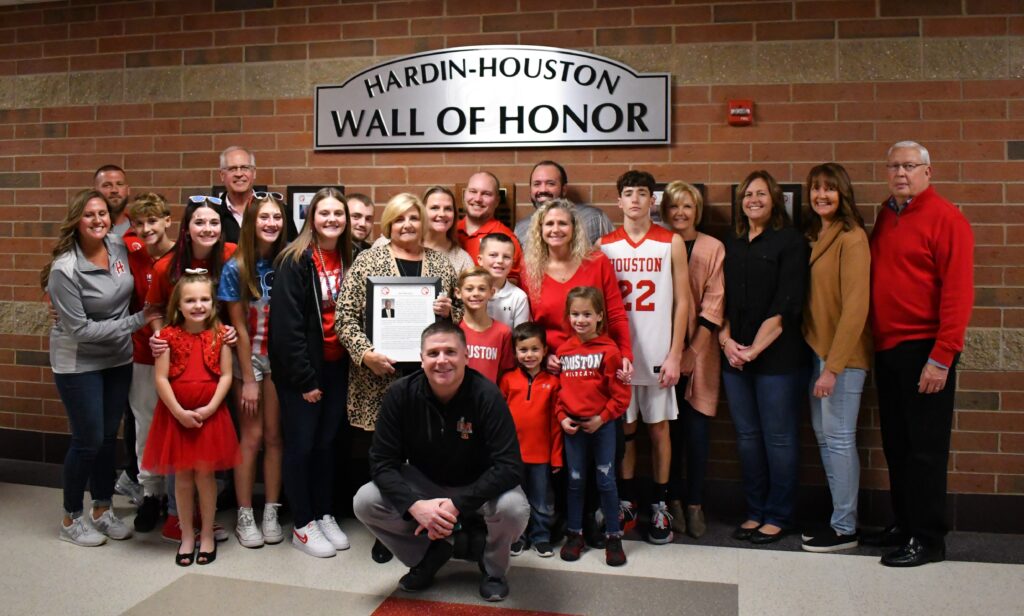 Bob Borchers

Inducted November 25, 2022
Mr. Bob Borchers first made his mark in the classroom as a Hardin-Houston School math teacher, often tossing out candy to all parts of his seating charts, whenever he felt a student's answer was deserving of a quick reward. Also a social studies teacher, Mr. B.'s annual ink pen fundraiser for a fifth-grade field trip to Cincinnati was the first Reds game for many, and the only one ever for some. After 18 years in the classroom, Mr. B. served the district as elementary principal for another 11 years. Known somewhat as a gentle giant, the 6-foot-3 Mr. B. had even more of a hulking presence to the kindergarteners and early childhood students. Mr. B. was a master motivator, often making friendly wagers with students. If he lost a bet due to students' success, Mr. B. would pay for it, whether it be kissing a pig or dyeing his hair bright red!
Bob also put in countless hours coaching Wildcats. His specialty was baseball. He was highly involved in the Hardin Ball Association for several years, coaching both softball and baseball, on top of his role as Ball Association board member. Prior, Coach Borchers led Houston's varsity baseball team for eight years. He was also a familiar face in basketball, coaching junior high boys for seven years and later helping organize youth basketball at Hardin. In addition, Bob was a member of the athletic boosters and simply a fan, especially varsity boys basketball, hardly missing a game during the better part of the 1980's-2000's.
"He was my favorite teacher." It would be difficult to calculate how many times the Borchers' family has heard that line over the years. Bob was, and is, very much linked to Hardin-Houston Local School. His grandkids are often near the top of their respective classes and enjoy playing their chosen sports, thanks in no small part to the path chosen by their grandfather, Bob Borchers.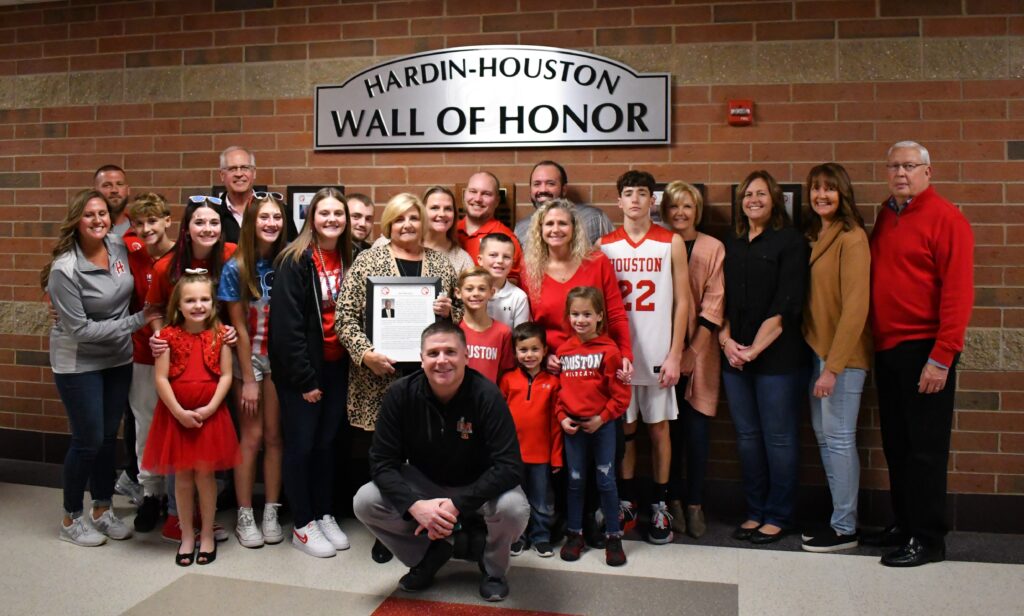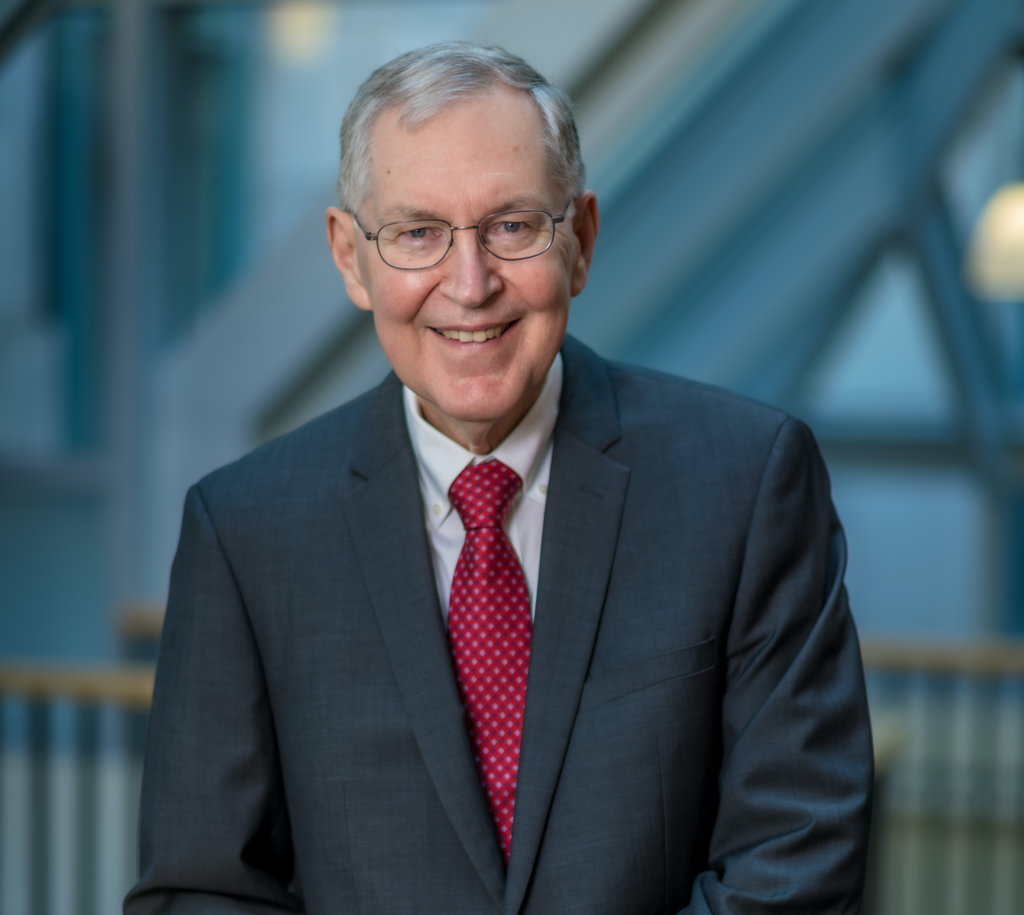 Dr. David Knipe
Inducted November 25, 2022
Dr. David Knipe graduated from Houston High School in 1968 as valedictorian after being President of the Science Club and the Future Teachers of America. Dr. Knipe is honored to be on the Wall alongside Mr. McKinney, his chemistry teacher and with whom he worked to start the science fair and Science Club. His Houston High School education prepared him well for college at Case Western Reserve University where he graduated summa cum laude in 1972. David then went to the Massachusetts Institute of Technology for a PhD in biology and started his career studying how viruses infect cells. Dr. Knipe continued his postdoctoral research at the University of Chicago, and has been a professor at Harvard Medical School for more than 40 years, culminating in his election to the National Academy of Sciences in 2021.
David, who resides in Massachusetts, has been married to his wife Suzanne for 49 years, has two daughters and four grandchildren. His oldest daughter is an assistant professor of medicine at Massachusetts General Hospital, and his younger daughter is a high school science teacher in New York City. One of his favorite activities is watching his grandkids' soccer games and plays.
Dr. Knipe has many great memories from his years at Houston High School and being active in the Starting Farmers 4-H Club and showing sheep at the Shelby County and Ohio State Fairs. He is very grateful for these formative experiences, learning how to work hard, being persistent and continuing after setbacks, and completing tasks carefully without taking short cuts in life.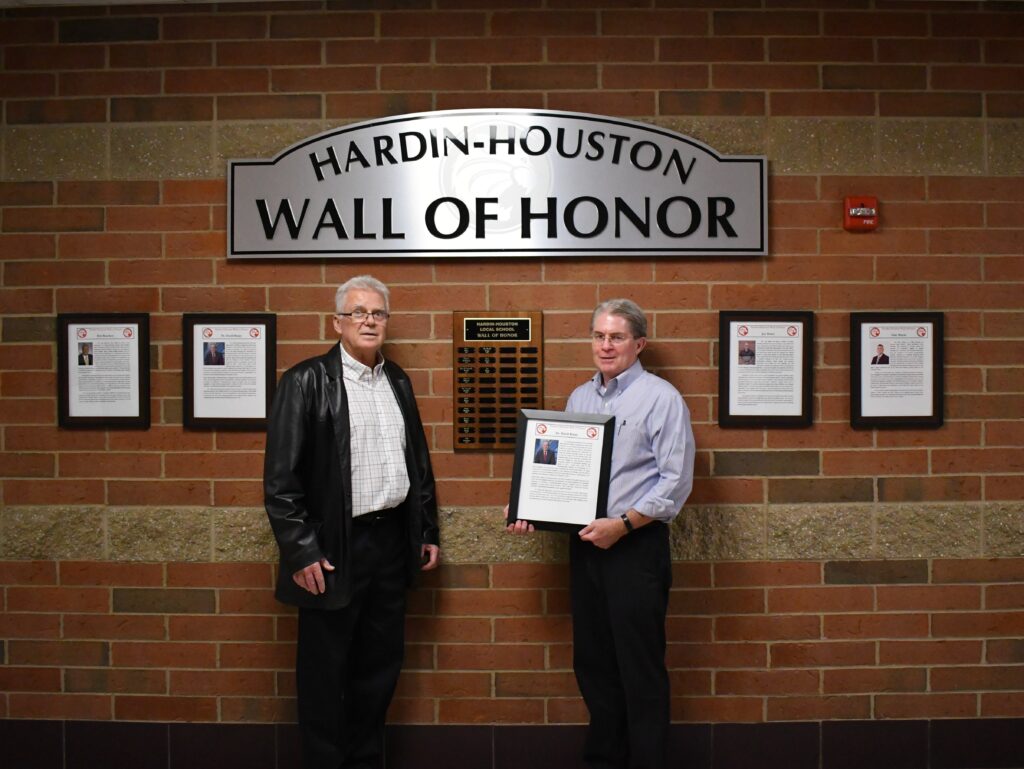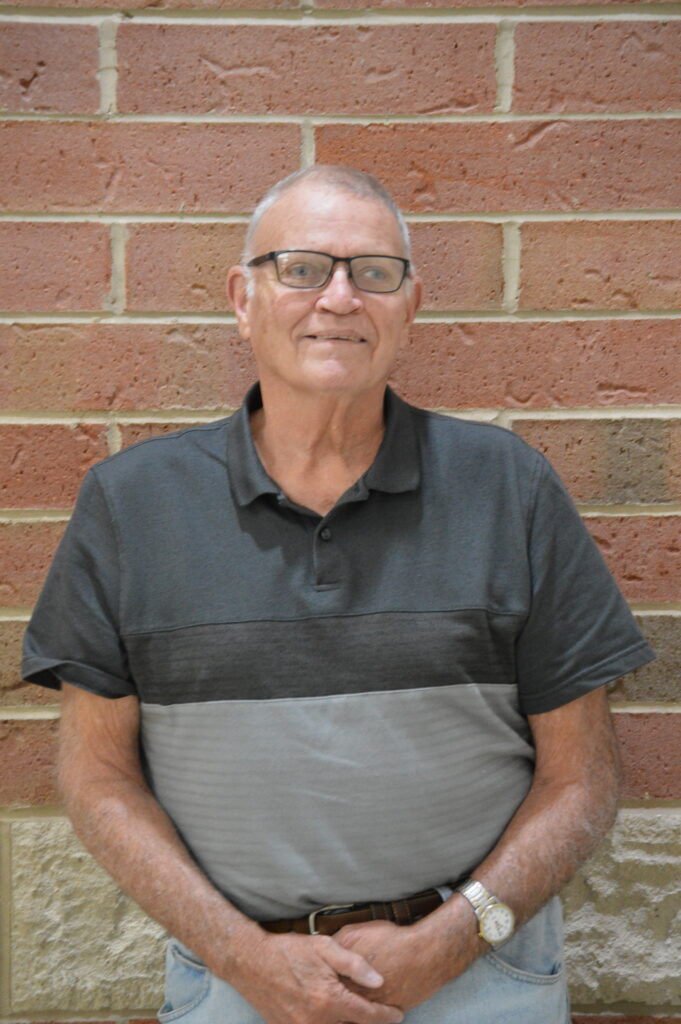 Joe Maier

Inducted November 25, 2022
Mr. Joe Maier has been a staple in Hardin-Houston athletics for over forty years. Joe and his wife Joan, along with Curt Hedrick, Roger and Sandy Snow created the Hardin Ball Association in the late 1970's. They solicited donations from local businesses and ran the concession stand during the baseball and softball games to help raise money for the Ball Association. They refurbished the existing ball diamonds and added a softball diamond on the old Hardin-Houston Elementary property. Many spring and summer afternoons you would see Joe dragging the ball diamonds, mowing and lining the fields in preparation for the Wildcats evening ballgames. As you can imagine, Joe would be the first to recognize and thank Curt, Roger and Sandy, and all the other coaches who were so essential in the first few years of existence of the Ball Association.
Besides his many years with the Ball Association, Joe spent countless hours coaching and mentoring hundreds of Hardin-Houston youth in various capacities. Over the years Joe coached Little League baseball, Acme baseball, 5th/6th grade basketball, and junior high boys basketball. Without a doubt, there were a countless number of positive memories imparted on many Wildcats Joe coached over the years, including a few stern redirections that Coach Joe was notorious for, especially at the expense of his five boys. Joe also found time during these busy years to donate his time umpiring baseball games and refereeing basketball games at all levels.
One constant with Joe throughout his many years within the Hardin-Houston School District is that he wanted what was best for all Wildcat kids. Joe not only wanted to give all the young Wildcats within the district the ability to participate in sports, but also teach them teamwork and give kids an opportunity to do something constructive with their time.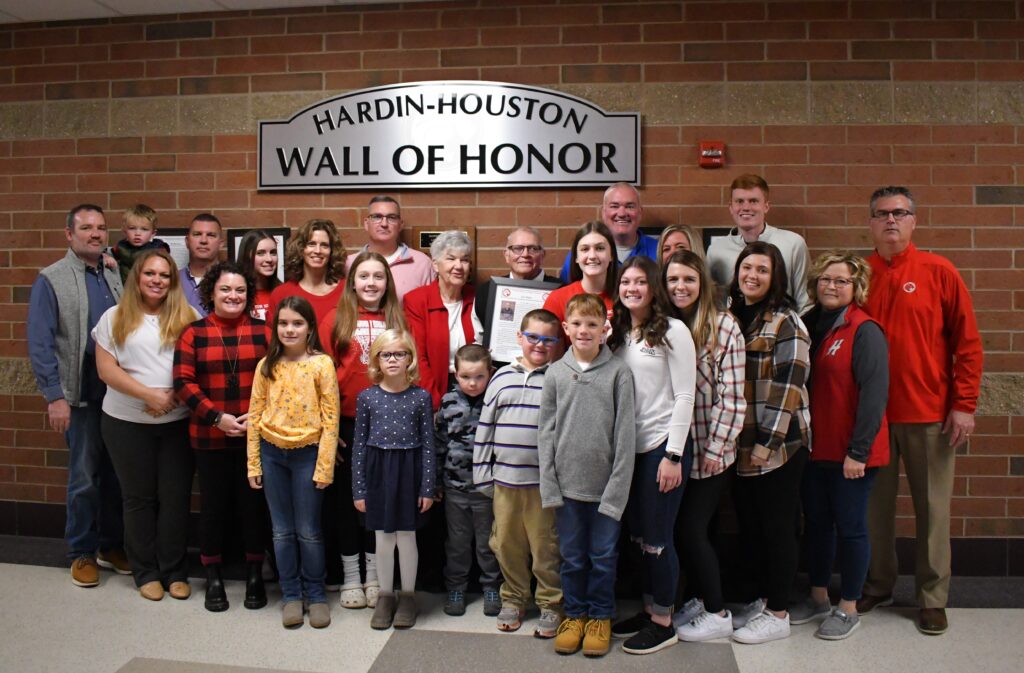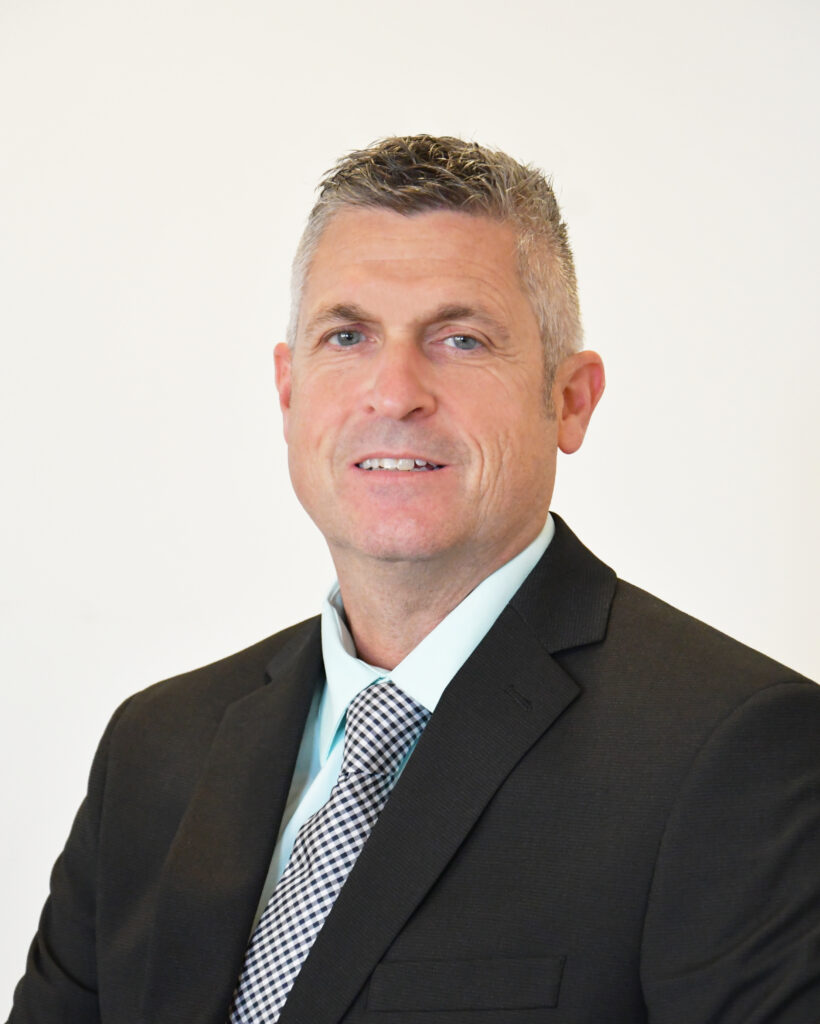 Gary Mayse
Inducted November 25, 2022
Mr. Gary Mayse is a 1986 graduate of Houston High School. Upon graduation, Gary attended the University of Dayton where he received his bachelor's degree in Sports Management, Coaching, and Business Marketing. Gary has worked in the Sports Entertainment Industry, primarily as a Baseball Executive, with Mandalay Baseball Properties, The Dayton Dragons Professional Baseball Team, and CSE for the past 20 plus years. During his career in the sport of baseball, Gary has represented ten different Minor League organizations and worked alongside some of the top Major League franchises such as the New York Yankees, Seattle Mariners, and Cincinnati Reds.
Serving as the Executive Vice President of Mandalay Baseball Properties, Gary managed the company's operations for their Minor League business portfolio and acted as owner representative on 3 major new ballpark developments totaling more than $115 million. Prior to his responsibilities with Mandalay, Gary was one of three key Executives involved in the franchise start up for the Dayton Dragons. Following the 2003 Baseball season, he was named "Midwest League Executive of the Year." In 2004, Gary was selected as a "40 Under 40" award winner by the Dayton Business Journal.
Gary currently resides in Washington Township with his wife Diane and three children – Elijah, Hannah, and Silas. When not at a baseball game himself, Gary enjoys being a spectator and cheering his kids on at their many sporting events at Xavier University, Alter High School, and St. Charles.